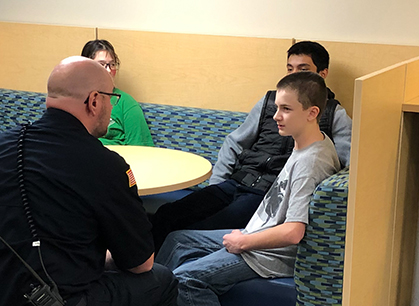 Sometimes the best way to get Peace of Mind is to have a conversation and get some additional information from our team. We offer consulting services in a host of protection & safety principles that can assist clients with developing a greater understanding of the risks and / or threats they may face. These services are offered by protectors and specialists with a diverse background who can lend assistance and advice to the most challenging topics.
Crisis Management
We live in a dynamic world that is constantly throwing new challenges at us daily. Our ability to adapt and work through these changes becomes a mindset and could be considered a perishable skill. People have varied strengths and weaknesses and as my website team tells me, "if you're asking how, you should be asking who." The world of crisis management is no different. Some people are wired for it and some are not. Choosing someone who can represent your organization's best interests during a crisis is key. These people become your barometer for the situation and help provide peace in the cacophony of chaos.
Crisis management is the process of walking an organization or individual through a challenging time. Much like a funeral director aids a grieving family, provides assistance and a service to honor their loved one, a crisis manager provides the right tools, knowledge and processes in crisis.
What is a crisis? They come in all different shapes and sizes. Much like a mass casualty incident in emergency medicine, it varies greatly on resources, skills, and ability that are immediately available or within the scope of preparedness. The more prepared one is, the less it will feel like a crisis. Being prepared offers opportunities to have strategies in place to handle such things as life safety, brand reputation / media relations, and business continuity. Raven Strategic Group comes alongside organizations and leaders of various levels to assist in planning and developing a playbook that fits your business and culture. By doing so when a crisis occurs, the plan offers a strategy to base decisions from rather than operating from emotion. Raven carries through the crisis and will aid in employing tactics that align with the strategic plan focusing solely on the crisis so that leaders can also work to continue business operations. Raven Strategic Group brings calm in a cacophony of chaos.
Event Security
Attendees shouldn't have to worry themselves with the details and logistics of an event. From something as simple as needing a bandaid to "does that person belong here?" These are two of countless situations that can detract from the enjoyment of the experience. These problems can also cause staff undue stress and loss of focus on keeping the event running smoothly.
Raven Strategic Group can come in and support these events, providing medical, security and logistical support to everyone involved. We have a variety of experiences in over a dozen countries providing oversight and management for a variety of events. Raven Strategic Group provides professional services that can assist in every aspect of the event. From selecting a location and conducting a risk assessment to putting people on the ground to help throughout the event there will be a peace of mind that the safety and security details are taken care of.
Services are tailored to the needs of the event and to meet the client's desires. This includes the number of Raven Strategic Group staff, to their level of training to their language skills. Raven Strategic Group also works with one of the most exclusive mobile medical providers in the world if so desired.
We operate from inception to execution of events. Assisting in venue selection, local medical and emergency services assessments and onsite support during the events. Raven Strategic Group staff blend into the group to provide a low-profile level of support that remains ready to react at any time.
Additionally, Raven can aid in monitoring social media, mainstream media and a host of other sources to add layers of safety and security prevention. This added safety measure feeds directly to personnel on the ground and can aid in decision-making to make things run smoother. Whether it's traffic issues, local crime or even specific threats made against the event or attendees, this information paired with expert protectors can guide event leadership to adjust and aid in keeping people safe.
Worplace Violence
Security in the workplace requires a constant and evolving level of commitment that can tax many companies' HR and security departments if they even have them. Raven Strategic Group can aid in building a program that assesses workplace violence threats and aids in prevention from "hire to fire". It all begins with program development aligned with the organization's principles.
Finding the right people for the job, investing in background checks for various levels, and then following through during the hiring process help to bring in the right candidates as new employees. Raven Strategic Group also provides training to a couple of different levels. First and foremost training supervisors and managers to recognize and report threats but also to be able to respond with some descalation techniques if needed.
The second phase of training is for a workplace violence team consisting of leadership with responsibilities in legal, HR, security and operations. These individuals along with Raven Strategic Group specialists can come together (in person or virtually) to assess specific threats and identify protective measures. When trained, this team can also act as the organizational barometer for evaluating additional program needs and adjustments to provide a safe workplace for everyone.
Raven also has capabilities to provide active intelligence gathering in the background from a multitude of sources that can help prevent and predict workplace violence issues. While these systems cannot replace the human observation element it does add depth and ongoing levels of protection for employees, employers and brand reputation.
Fire Protection
Raven's team has decades of experience in the fire protection industry. From firefighting operations to code enforcement, to organizational development, we can provide assessments and advice on how to enhance fire protection in almost any industry. These services are built and deployed for each organization. There are no boilerplate programs, just an honest assessment, and application of global fire protection experience from our experts to your team.
Executive Logistics & Security
Whether traveling on a business trip or intuition is flagging a potential security threat Raven can assess and advise on the safety and security of an executive or group of executives. We use state-of-the-art intelligence programs and in-person security assessments in order to make recommendations on what precautions should be taken.