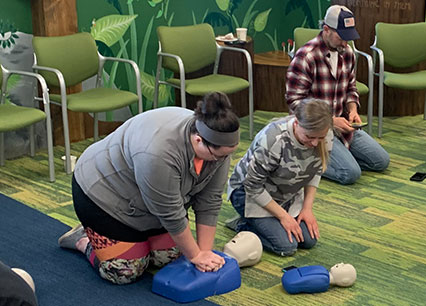 We recognize that we cannot be everywhere all the time to assist clients and that training is a valuable commodity for anyone. Whether you're looking to gain some medical knowledge, know how to react in emergency situations, or want to enhance your overall abilities to protect yourself and your loved ones, Raven can tailor training to you and your organization. We offer a variety of classes, topics, and instructors to bring the best possible training solutions right to you.
CPR / First Aid
These programs are designed to teach students life-saving skills and gain confidence that when the time comes they can spring into action. Each class has the ability to be tailored to the student's desires, hobbies, or needs all the while learning valuable skills that can be used at any point in their lives. Raven instructors are experienced and many still are active in EMS on a daily basis bringing real-world knowledge to the classroom.
Emergency & Incident Management
Chaos comes quickly in an emergency. Operating under the added stress can be challenging even for the most experienced leaders who are not properly prepared for an emergency environment. Our instructors can develop a foundation of skills and abilities and apply them in tabletop drills that help prepare leaders to manage under stress. These programs are rooted in the National Incident Management Systems that were consolidated across a host of disciplines following the events of 9/11/2001. Each class focuses on the fundamentals yet is customizable to fit into each organization's culture and industry.
Intuition Awareness
There's no denying that evil exists in the world. From the beginning of time violence has occurred and will continue until the end of time. Many people in today's day and age live in relative safety and are not likely to be victims of random acts of violence. The days of being attacked by a wild animal for food is a rarity in most areas of the world. This has slowly relaxed the human ability to recognize intuition. Humans have become the only creatures on the planet who use logic to dismiss the unexplainable sense that is there to protect us from harm. Intuition is still within us, but many have lost touch with it and dismiss it as quickly as it alerts us. A quick web search will bring up millions of articles and videos on situational awareness, which is definitely a worthy study, but it may leave us without a total sense of awareness without having lived through an experience before.
Raven Strategic Group has taken a variety of information from well-known authors and presenters along with a world of experience and wrapped it into a series of discussions and exercises to help develop an ability to understand and unleash the power of intuition awareness. Discussions include not only tapping into one's intuition but also some understanding of why we may dismiss it. Too often people put themselves at greater risk at the risk of being polite. Yes, that's right, we would rather be polite, than safe. The approach doesn't have to be rude, but there may be some suggested approaches to reduce the risk while maintaining a sense of "politeness." When coupled with a better understanding of how to react, this program can create a safer lifestyle and less stress.
Fire Protection and Operations
Raven personnel has extensive background and knowledge in fire operations, fire prevention, and organizational development. These experiences and knowledge are built into training programs that improve an organization's ability and efficiency in deploying these programs in the real world. From basic firefighter training to advanced inspection practices to leadership development, Raven can provide training that will enhance fire protection and operations for any organization.
CRASE
Active shooter events can be complex, confusing and certainly inflict fear. But this is one of the areas Raven Strategic Group can assist. Our goal is to provide context for recognizing and reacting to an active shooter event. With the unfortunate uptick in these events it's important for people to have a mindset and options as to how they would respond during one of these horrific events. Raven Strategic Group staff are certified to conduct Civilian Response to Active Shooter Events by ALERRT. This unique curriculum allows for a tailored program to fit the needs and desires of the host. These programs provide students with an opportunity to understand recognition and response options in the unlikely and unfortunate circumstance that they are involved in an active shooter situation. Instructors not only share the base curriculum but their knowledge and expertise from years of law enforcement, private security, emergency medical response and interviews with subjects who have experienced these types of events.
The overall intent is to provide a knowledge base and increased comfort level to go about your life with a sense of awareness and ability to react but not live in paranoia